Georgia's Garden Hotel, a 3-star establishment, has been a cornerstone of the Omilos Hotels Papadakis portfolio since 1987.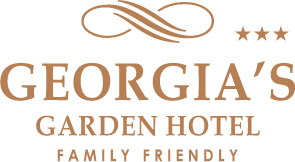 Situated in a prime location close to the beach, the hotel's enduring success is a testament to its quality service, top-notch amenities, and strong community ties.
Family-Friendly Comfort
With 19 well-appointed rooms, Georgia's Garden Hotel is a family-friendly destination designed to meet the needs of travelers looking for a cozy yet luxurious stay. Its limited room count allows for personalized attention to every guest, ensuring a warm and welcoming atmosphere.
Year-Round Excellence
Unlike many hotels that face seasonal challenges, Georgia's Garden Hotel boasts high occupancy rates throughout the year. This is due in part to its continuous efforts to maintain and improve its facilities. The hotel undergoes annual renovations to ensure that it meets the highest standards of comfort and modernity.
Culinary Delights
The hotel houses an excellent restaurant and bar, offering an array of local and international cuisine. Guests often commend the culinary expertise showcased here, making it not just a place to stay but a complete experience for the palate as well.
Local and Repeat Guests: A Strong Community
One of the hallmarks of Georgia's Garden Hotel is its community of loyal patrons. The hotel enjoys a high rate of repeat guests, as well as frequent visits from local residents, proving that its appeal extends beyond the typical tourist.
Financial Success
Since 2019, Georgia's Garden Hotel has shown remarkable financial growth. The average price per room has increased by 24%, and the revenue per available room (RevPAR) has surged by an impressive 48%. These metrics not only illustrate its economic resilience but also underscore its rising reputation in the hospitality sector.
Conclusion
Georgia's Garden Hotel exemplifies the standards of quality and service that Omilos Hotels Papadakis is known for. Its continuous improvements, community ties, and financial success make it an exemplary model for any hotel aiming for long-term growth and customer satisfaction.